Register.com review of services. As one of the top registrars, Register.com continues to offer many choices in domain name registration with reliable support and easy transfer services. Register.com also offers complete website plans, each one with different features and prices. They give you options regarding your web site to customize it to meet the look and functionality you want. You can do it yourself, or have someone with experience help you. The service is great! Read our full Register.com review to learn more about this top domain name registrar.
Register.com Review for Domain Name Registration
Register.com is a certified ICANN (International Corporation for Assigned Names and Numbers) domain registrar. This gives them full rights for registering domains, from popular generic domain extensions to the latest new top level domains (nTLD). Register.com has a search bar that will let you search for available domain names, put in the exact domain you want to see if it is available for registration or put in the keywords for your website and Register.com will give you suggestions of available domain names that might be a good choice for your website. They also list the top domain extensions, most popular domains, and new domain name options to give you more ideas of how you can customize your domain name to fit your website. The main registration page lets you see which domains are open for pre-registration that the pre-registration period is coming to a close on. This will help you get in on early registration options for the domains you want.
Some of the benefits you will enjoy with your Register.com domain name registration include:
Web Address Forwarding
Online Domain Management
Toll- Free 24/7 Customer Support
Website Forwarding
Register.com Review on Domain Name Registration Pricing
The one thing I don't really like about the Register.com site is that there is no pricing information readily available. They do advertise a free domain included with the DIY Website Builder they offer but you don't even get pricing options for that until you search for a domain name and find one that is available. Then the following plan options are made visible for you to choose from: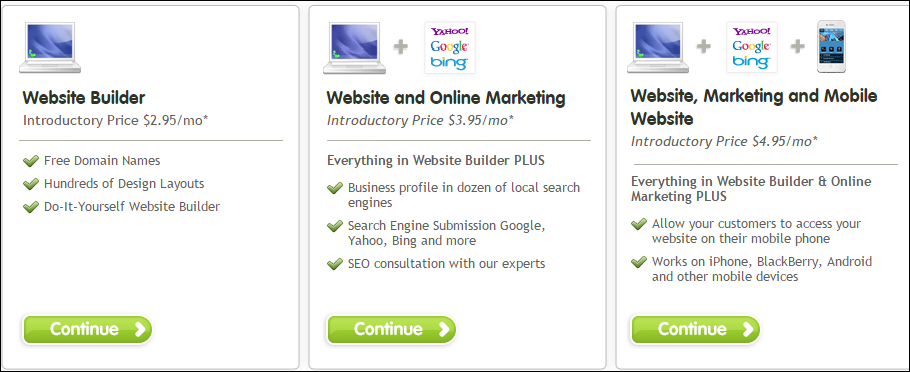 Getting pricing for just domain registration goes one step further, requiring you to create an account before the price is displayed for an available domain name. This is likely so that they can give you the most accurate pricing options for the domain you want, but I like to be able to compare pricing for the services I am considering without giving them any personal information that they can then use to pester me about purchasing their service. I haven't tried calling the toll-free number but you could possibly get a price quote that way without them requiring you to input any identifying information.
If there is a particular domain you want and you've tried to access it through a web browser and didn't find a functional website, but domain searches show it isn't available, it may be available through the Premium Domain registration service. Premium domains are short, memorable domain names that utilize simple keywords and search terms. These domains are already registered but are currently unused and available for purchase at a premium rate. Visit Register.com to search for available premium domain names.
Register.com Review on Private Domain Name Registration
If you have any experience with registering a domain you know that there is certain required information that you have to provide during registration: name, email address, phone number, etc. This information is added to a publicly listed, searchable database called WHOIS. If you don't want your private information publicly available you can choose Private Registration. There is an extra cost for this service but it will protect your personal information and Register.com will provide their basic contact information in place of yours to prevent spammers, scammers, and data miners from getting your personal information.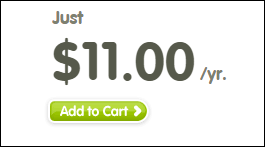 Register.com Domain Expiration Protection
So we all have automatic payments setup to be billed to a specific debit or credit card and it never fails that when that card expires we forget about at least one of the things that we have set up to be billed to that card, especially if it's not a monthly charge. So maybe you've prepaid your domain registration for three years and have it set to auto renew at the end of that period but two years into the three year period your card expires and you got a new card but forgot to update the billing information for your domain registration. If you miss the renewal reminder and don't update your billing information and your domain expires your site is going to be down, your emails will not be delivered and you are going to have late  fees and many other headaches trying to get your domain renewed and fully functional again. Register.com offers a simple way to avoid all this hassle with their Domain Expiration Protection. This is an add on features that costs $10 per domain, but it secures your domain for a full year after the expiration date and prevents you from having to pay any late fees associated with an expired domain registration.
Register.com Review on Domain Appraisal Service
Domain appraisal services are designed to give you an estimated value of a particular domain name. Perhaps you have a popular website with established web traffic and search engine ranking. You know the site is optimized for competitive keywords and that this provides added value to the domain but you don't know how much the domain is really worth or what a competitive marketable value is. Register.com offers a domain appraisal service that is performed by leading industry specialists that have more than ten years of experience in using a proprietary system created specifically to evaluate search volume and keyword advertising on related terms, compare domain sales in the recent past for comparable domain names, and explore the current media setting and other metrics that effect the value of a domain to get a realistic estimate of the value of a domain. The cost of domain appraisal is $25 for the first domain and just $20 for each additional domain appraisal.
As you can see, there are many domain name registration options available from this top domain registrar. Visit Register.com for full details or to register your domains today!